Complete Oscar Rundown....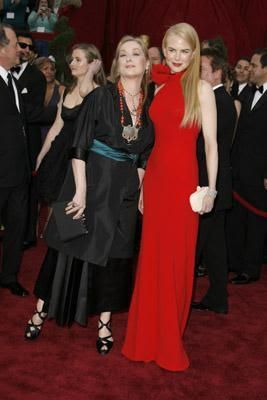 What a nice gift for a lesbian fortune teller: a Barbie doll.
(BLASPHEMY! LOVE THEM BOTH!)
THE GREAT:
+Meryl, Anne and Emily. Probably the funniest non-Ellen moment of the night. The entire costume design presentation was awesome. Although, those Prada and Queen gals looked way too plastic. I loved how the Marie gals softly, demurely applauded.
+Martin Scorsese Finally WINS. And the theatre went nuts. That's probably the happiest I've seen the Kodak ever be for a winner.
+The presentation of all of the technical categories and screenplays was great. In fact, they got more show than the acting nominees. When you think about it, that's a good thing. The first thing they do when they announce the nominees is show baity Oscar clips of all the acting nominees, yet nothing for the writers and designers. Laura Ziskin seems to be the best at doing this.
+Diane Keaton chose not to walk the red carpet, which made her knock my socks off when she walked out to present with Jack. She looked her best in years. Definitely one of the best of the night.
+"It's
Goodfellas
meets
Big Momma's House
."
+For the first time in a long time, the best performance of the year won the Oscar. Go Dame Mirren. Though I wish she would've worn her big, I'm-winning-this-shit Emmy dress. Loved that white look! She's bringing sexy back.
THE GOOD:
+Bald Jack.
+The Dreamgirls musical performance was miles better than the actual film.
+The Al Gore love.
+Ellen. I never thought I'd agree with Regis Philbin, but after the show on E! he said they didn't give her enough to do, which was true.
+The Abigail and Jaden thing was surprisingly tolerable. In fact, it was actually enjoyable.
+Smart move having people like Eva Green, Gael Garcia Bernal, James McAvoy and Jessica Biel present with each other. They aren't quite huge stars. However, I'd say that Daniel Craig and Nicole Kidman could've presented solo.
+No one looked particularly awful. I applaud everyone for taking risks. For most, it payed off.
+The three amigos. All 6 of them. And yes, they ALL should bow before Scorsese.
+Out of the big 8 categories, 4 of them actually deserved it. That's the most in a while. The Departed is such a great Best Picture win giving it's not at all the typical AMPAS fare. The Queen would have been my ultimate preference, but I love both.
THE BAD:
+The stupid trivia about the nominees as they walked up to the stage.
+Nicole Kidman said "And the winner is..." Eeek.
+The way they always get the person who presents Animated Feature (Cameron Diaz this year) to tell the animated creatures to stay in the audience. Yes, cause your primary audience for the Oscars is actually retarded.
+Yesterday: Jennifer Hudson won an Oscar. Three weeks from now: obscurity. I'm glad Beyonce realized this was not the Grammy's, but Hudson didn't. I don't ever recall an acting winner at the Oscars thanking God.
+What's the point of having people present who are in an upcoming movie together if you aren't going to even bother mentioning they are in that movie together. (Kidman/Craig have two coming out together.)
+Streep looked bad even for her standards. But she's Meryl. She can do anything she wants.
+Children of Men lost cinematography. I bet it was because of that firecrotch doing the ping pong ball thing with my husband.
+Babel won score. I love Gustavo's scores, but for the most part Babel's music sucked. Especially when he just won last year and Alexandre Desplat doesn't have an Oscar.
+Don't have people present categories where the movie they were in was nominated. I'll forgive Blunt/Hathaway presenting Costumes, but Jack presenting Picture again just felt tacky. They should've let stunning Diane do it alone.
All in all, it was a smooth flowing ceremony that I thought was never dull. And had just the right amount of humor, tears and clips. Though they do need to tighten it up in some ways, it stretched at points. But I hate those who bitch about the length of the ceremony: it's once a year.
Ellen was good, she will be great at it someday. I don't like people hosting 2 years in a row. So a suggestion for next year's host. Steve Martin. He's my favorite. If not available, get Emily, Anne and Meryl. What a hoot that would be!
Ziskin and Degeneres - don't let the negative reviews fool you. You did good.
And now: fun with captions...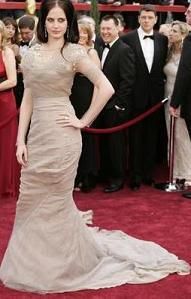 Eva Green - It's not just an Oscar dress. It also helps her go shrimp fishing. Oh well, she looks better than she did at the BAFTAs.
John Travolta & Kelly Preston - Tomkat in 15 years.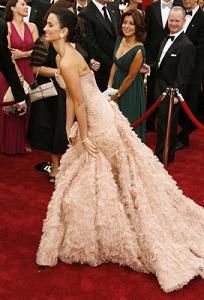 Penelope Cruz - So excited she was at the Oscars, she stopped and peed. I did like her dress and her hair, but she couldn't pull either off. Something about the shape of her head didn't go with the look she was trying to do.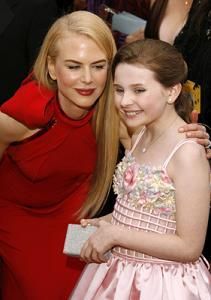 Nicole Kidman & Abigail Breslin - "I shall destroy you."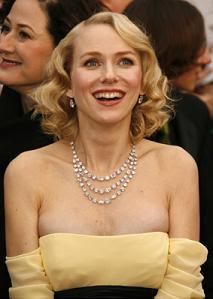 Are you there, God? It's me, Naomi Watts.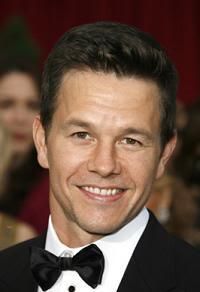 Mark Wahlberg - he's really come into his own. That's not all he can come into. :-)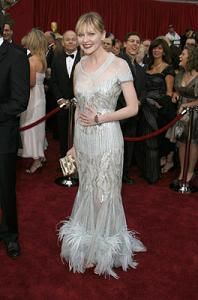 Kirsten Dunst as Dakota Fanning. I hate this dress. I love this dress. I hate this dress.
Jennifer Lopez - another look I'm mixed on. But this is a diva pose if there ever was one.
Jennifer Hudson came from the future. Because hers is probably gonna suck.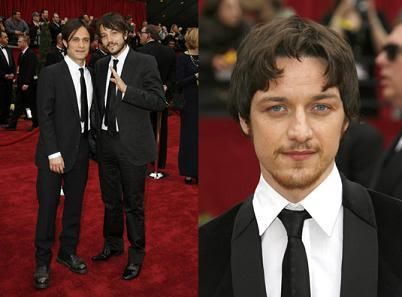 Gael Garcia Bernal & Diego Luna / James McAvoy - oh, look! My poolboys and gardener have arrived. Their uniform: black bikini briefs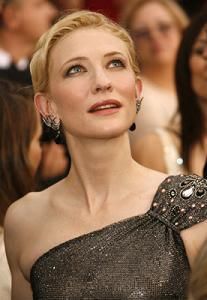 Are you there, God? It's me, Cate Blanchett.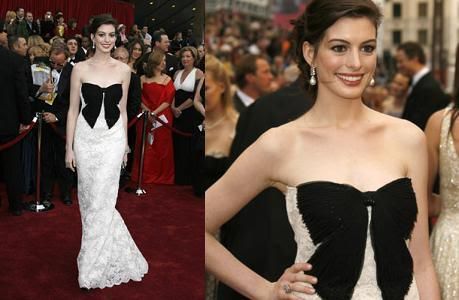 Oh, look, it's my chatty, galpal neighbor! Okay, I liked her look, it wasn't great. She probably should've switched this dress and worn it to the SAGs and worn her SAG dress to the Oscars. But I love Anne. She's adorable. And she told the cutest story about how the confetti came down at the end of the show and she grabbed some and put it in her purse to keep to remember the perfect night. I nearly cried. I want to hug her. And maybe get her a better dress. Then we can talk about Jake Gyllenhaal. He wasn't there, and I'm contractually obligated to mention him. (Maggie was, and looked good.)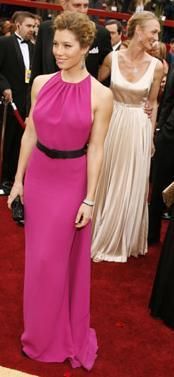 Jessica Biel - brought to you by Crayola. (Okay dress, needs a different color, though. She definitely stood out. Looked better at the Globes. You could see her nipples though this dress, so I doubt many are complaining.)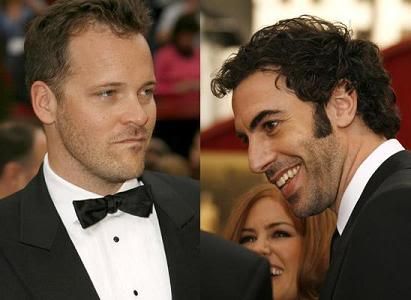 Peter Sarsgaard & Sacha Baron Cohen - stubble is hot.
And finally...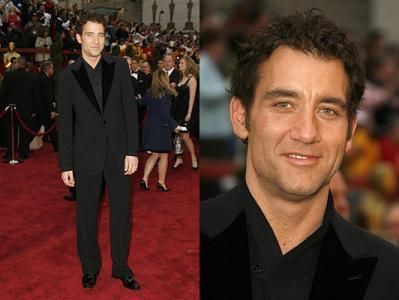 My husband.
Okay, 10 BEST DRESSED:
(Oh, worst dressed is Sally Kirkland obviously. If you want to, look up her picture from last night. LOL. You'll get a great laugh.)
#10 - CAMERON DIAZ
- She always looks interesting. As someone who sees almost everything Cammie D wears, she looks absolutely the best she's looked in a long time. Dropping your man worked for Reese, and it might just work for Cameron.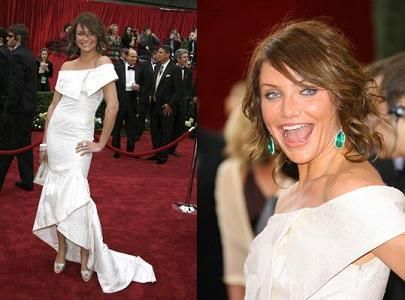 #9 - RACHEL WEISZ
- so much improved from last year. Looked great the Globes, too. Motherhood does a woman good.
#8 - EMILY BLUNT
- "Dear Darren, thank you so much for your constant support since the release of
The Devil Wears Prada
and all throughout award season. I wholeheartedly believe your belief in me helped me get BAFTA and Golden Globe nominations and a Globe win. I hope you like all the movies I have coming out throughout 2007 and the upcoming movie I'll be doing that Martin Scorsese will be producing. Hopefully, you are right and that I get the Oscar very soon. Love, your Bluntcake. PS, thanks for thinking that my Globe dress and overall look that night was the very best of this award season."
#7 - NAOMI WATTS
- "Dear Darren, I fucked Heath Ledger, Liev Schreiber and Nicole Kidman. And you did not. But I look fabulous, don't I? And isn't my bump so cute? Yes, I look like Cate Blanchett the night she won the Oscars, but oh well. Tell Angie I said 'Sup!'"
#6 - DIANE KEATON
- Somebody call NAAAAAAAAANNNNCY and tell her how good Diane looks. Perfection! Wish I had more pictures.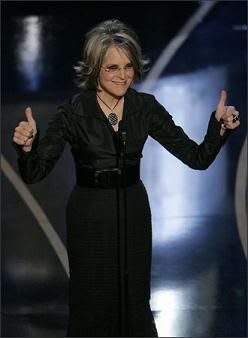 #5 - CATE BLANCHETT
- Always looks good, but a silver goddess tonight.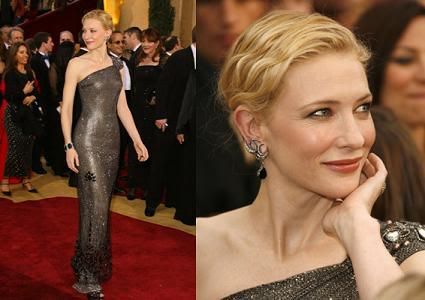 #4 - KATE WINSLET
- Kate trumps Cate this time. This woman knows how to dress.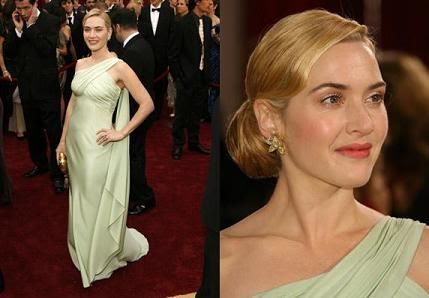 #3 - RINKO KIKUCHI
- The night's biggest disappointment. Disappointing in how horrid she looked everywhere else this year and how INCREDIBLE she looks here. YOWZA!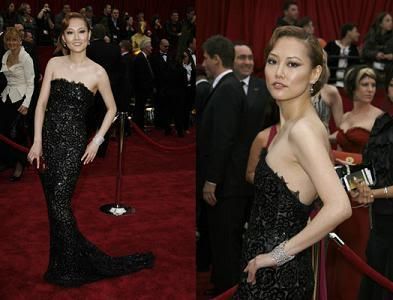 #2 - REESE WITHERSPOON
- I do miss the more curvy Reese of 1999-2001. Her aura here is just incandescent. The hair and deep purple, ugh, if only she looked this good when she was winning everything last year.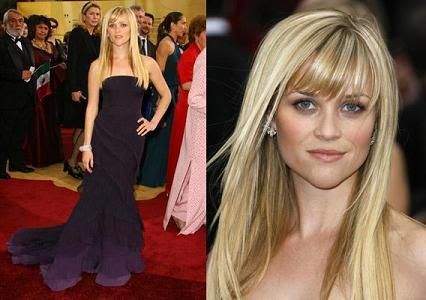 #1 - GWYNETH PALTROW
- There's as many people who will say this is one of the best as there are saying it is one of the worst. My love/hate relationship with Gwyn continues. For every night like last night, there's a raccoon/trashbag look like 2002's Oscars. This feels so classic Hollywood, yet totally revisionist. UGH, GWYNETH. You made me love you again!!!! She looks like she should be floating on a seashell like the goddess she is.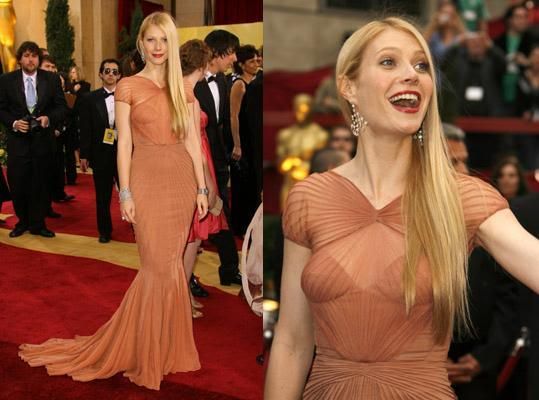 Anyway, Hollywood, give yourselves a round of applause (another one) you all took risks and even if you stumbled, I still love you all.
Well, it's been a fun award season. But I'm ready to move on. I'll be putting up my complete ranking of the films I've seen in 2006 on Sunday, and after that I'll probably be taking a break. Hope you all enjoyed the Oscars!
Just one more time...
"That's all."