Horror Movie News: Dead 5 & Hills Have Eyes Remake
I still love horror movies despite all the cowboy lovin' going on now. Remember when horror movies used to push the limits of the R-rating instead of being hacked up or watered down PG-13 versions? Looks like we're gonna be getting some more blood and guts...
ROAD OF THE DEAD
:
According to various sources, this will most likely be the next film in the Romero's
Living Dead
series. The film will pick up directly after the events of
Land of the Dead
with the crew of Dead Reckoning headed for Canada. Oh, that great liberal land. George Romero stated in an interview that many of the characters would return - including Simon Baker's. This would be the first character continuity of the series, as all of the other films have picked up with entirely new characters. Noted exception: Tom Savini's biker character became a zombie in
Dawn of the Dead
, then is seen as a zombie in
Land of the Dead
. Romero has plans to shoot the film in Australia, though nothing is official. He has two other projects to work on, both adaptations of Stephen King material.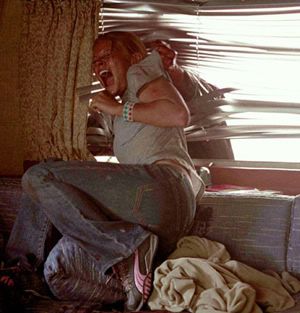 THE HILLS HAVE EYES
:
I rather enjoyed Wes Craven's original. I thought Alexandre Aja's
High Tension
(or
Switchblade Romance
as it is called in the following article) was okay overall, but started out pretty damn great before losing most of its tension then spiralling into a cliched ending. Now, combine the two and I'm very interested. See, the seminal
Eyes
had a great concept that wasn't exactly as great as it could have been, so I'm all for this remake. If you were to combine what Aja did in the first act of
High Tension
with the entire original, it sounds like it could be one hell of a movie.
From
EmpireOnline
:
"If you thought that Wes Craven's 1977 horror classic
The Hills Have Eyes
, in which a suburban family are terrorised in the desert by a family of inbred mutants, was too intense and disturbing, then prepare yourself for the forthcoming remake – because you ain't seen nothing yet.
Says who? Well, Craven himself, who's producing the new movie, directed this time by Switchblade Romance helmer, Alexandre Aja. At the moment, the new
Hills
– starring Aaron Stanford, Kathleen Quinlan and Ted Levine – is so intense and gory that the American ratings board, the MPAA, have given it the dreaded NC-17, aka commercial suicide.
"It's a very strong picture and we're trying to figure out what to do with that, without ruining it," says a perplexed Craven, speaking to Empire yesterday. "We have to deliver an R rating. We looked at it last night in the screening room and before we started, we said to Alex 'what do you think?' And he said 'this is a PG-13 now'. And one of our producers said 'Alex, can we commit you to an insane asylum if this isn't an R?' and then he showed it to us and ohmigod, there's no way you would get an R for that."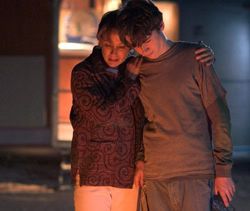 If you're wondering why, just bear in mind that the first film featured a gruelling sequence where the mutants attack the family in their trailer, and kill nearly everyone. That sequence remains in the 2006 version, but considerably amped up.
"It's intense. Very intense. The attack on the trailer in my film was horrible, but it was over fairly fast," adds Craven. "This one goes on almost ten full minutes. It's fairly faithful to the original, but Alex added other things that also make it worse, what's happening to these people. It's protracted. It's a long, slow process rather than being a chaotic, relatively fast process. It's just too much for people that have to rate it, by a mile."
Craven confirmed that Aja is still cutting the movie, and with a March 10 release date (both here and in the States), there's plenty of time to meet the MPAA's strict demands. But don't worry, gore fans – "We can put it all full strength on the DVD, though," laughs Craven. "We'll be able to do that."